To use the systems at most company needs professionals with good knowledge of the systems, who will be able to apply the whole functionality of the system and completely use reporting opportunities. AS systems' courses that are held in training center aim to prepare such competent professionals. Training Center is subdivision of Apricot Software which enables organizing trainings effectively with the help and support of the best specialists in accounting, legislation, business-process management and technical staff.
Training course of AS-Accountant 7 system is designed for both experienced accountants and beginners. One-month course is designed to enable the participants to simultaneously do implementations in their offices, revise the previous material, ask questions and receive clarifications.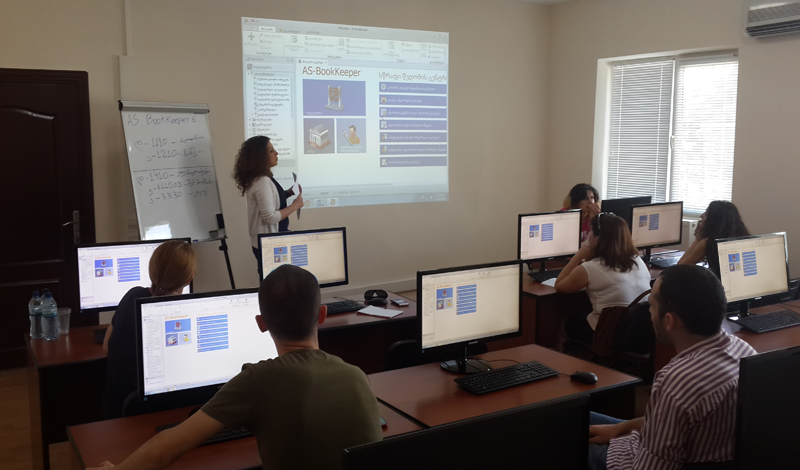 Course Description
This course is based on practical work in AS-Accountant 7 system. Each participant has his own desk and personal computer which allows them to work independently. One of the participants' computers is connected to the projector. Parallel to work all participants have a chance to follow the processes under the direct supervision of the lecturer. During the course the tasks are being regularly checked. In case of errors the lecturer comments the errors and corrects them.
The participants are free to ask questions when doing tasks.
In the beginning of each class they revise previous materials. They do tasks independently in the system which allows them to repeat and enhance the previous material. In case of difficulties the lecturer revises the material related to that task.
Lecturers
Courses are taught by accounting automation specialists who have both teaching experience and extensive experience in practical work with systems and their implementation. Lecturers' high competency provides high quality and effectiveness of teaching.
Teaching methods
Group Courses
Groups are recruited regularly. The course has a standard program which is designed for group courses. This method stands out for optimal quality/price correlation.
The group consists of 10-13 participants
This course has a fixed schedule
Special teaching method is designed
Practical work, individual work, practical tasks are carried out under the supervision of a lecturer
Opportunity to share experience among participants
Lecturer's assistance as required
Corporate Courses
In recent years corporate classes are highly demanded. These are courdes organized types of courses have been carried out for the employees of the following spheres: health care, water management, gas supply, budgetary, academic institutions.
Employees from the same field take the course (at least 6 people)
Curriculum including characteristics of that particular field
Opportunity to discuss questions and suggestions, professional solutions related to that field activity
Intensive Courses
6-8 participants
Classes take place every day
Duration 4-5 hours per day
Class Hours
There are morning, afternoon and evening classes as well as intensive schedule
Morning
10:00-12:00
Afternoon
12:30-14:30
15:30-17:30
Evening
18:00-20:00
Required knowledge
– Participants must have basic knowledge in accounting and computer
Materials
– All necessary materials and the system demo version are provided
Certificate
- Participants who complete the course will receive certificates
Duration
- 12 classes, 24 hours
Cost
- 130 Laris